WHO have declared a Public Health Emergency of International Concern, while EU raises level to high and NHS England declares the highest level four incident over outbreak for emergency preparedness planning.
14th 
BRITAIN's coronavirus lockdown will continue for at least three more weeks with the pandemic peak still days away.
PPE distribution needs a large-scale logistical effort from the NHS,
suppliers and the armed forces, the government said.
Coronavirus cases are soaring in care homes, with the chief medical officer disclosed that outbreaks had been identified in almost 100 institutions in the past 24 hours.
The UK's independent tax and spending watchdog has warned the coronavirus pandemic could
see the economy shrink by a record 35% by June. And Leave 2 million unemployed
6th
Prime Minister Boris Johnson moved to intensive care and put on oxygen as symptoms worsen.
UK records 51,608. The number of deaths has been recorded as 5,373, rising by 439 – according to Public Health England.
5th April
The Queen makes a rare broadcast to the Nation over Coronavirus Crisis. 
A further 621 more COVID-19 deaths in UK – bringing total to 4,934
"If you don't want us to have to take the step to ban exercise of all forms outside of your own home then you've got to follow the rules," says Health Secretary Matt Hancock.
Catherine Calderwood resigns: Scotland's chief medical officer quits after flouting lockdown
Trump predicts 'a lot of death' as cases pass 300,000, and deaths pass 8,000. Global cases pass 1.2million.
Watford Hospital re-opens after Oxygen emergency closure. And Police close Cassiobury Car Park
The owners of the ExCeL centre in east London are charging the NHS £2m-£3m a month in rent to use it as a temporary hospital for coronavirus patients.
Two nurses – both young mothers – five doctors and two healthcare assistants have contracted the coronavirus and died since the start of the outbreak, and there are reports of further such deaths.
Nurse Areema Nasreen, 36, died just after midnight on April 2 in intensive care at Walsall Manor Hospital in the West Midlands – the hospital where she had worked for 16 years.
A 20-year-old man has been arrested for allegedly wiping his saliva on products in a LIDL supermarket in Dorset.
4th
708 more COVID-19 deaths in UK – bringing total to 4,313
31st
NHS to get thousands of new ventilators 'next week', as death toll rises to 1,789
The contactless limit for in-store spending is to increase from £30 to £45 from 1 April as retailers cut the need for physical contact in shops amid the coronavirus epidemic.
Scams / Covic-19 Tracker / Councils and Government to send leaflets
12th
UK now in DELAY phase as coronavirus death toll hits 10 but schools stay open. 
There are now 596 confirmed cases in the UK, up from 456 on Wednesday – with 491 in England, 60 in Scotland, 20 in Northern Ireland and 25 in Wales.
11th
The Bank of England cuts interest rates to 0.25% in an attempt to shore up the economy amid the coronavirus outbreak.
UK health minister Nadine Dorries says she has tested positive for coronavirus and is self-isolating. as WHO change status to Pandemic
---
10th
6th Death in UK at Watford General Hospital North of London.
President Xi Jinping has visited Wuhan to send a "strong signal… that China is ascending out of the darkest moment amid the outbreak".
Flights from Stansted, Luton and Southend cancelled as Italy imposes coronavirus lockdown.
Ryanair, which operates from Stansted and Southend airports, have announced a cancellation of all flights on Tuesdays, Wednesdays and Thursdays.
Between Friday-Monday, the budget airline is only operating one flight to places like Milan and Venice.
| | | |
| --- | --- | --- |
| Country | Cases | Deaths |
| China: | 80970 | 3189 |
| Korea: | 8382 | 72 |
| Iran: | 12729 | 611 |
| Italy: | 17660 | 1266 |
| Cruise Ship | 706 | 6 |
| Japan: | 788 | 22 |
| Germany: | 3676 | 8 |
| France: | 3661 | 79 |
| Spain: | 6023 | 191 |
| Singapore: |   |   |
| Hong Kong: |   |   |
| U.S: | 2340 | 51 |
| U.K: | 1140 | 21 |
Infections in China is continuing to drop by the day, as cases rise in Europe.
---
9th
UK Chief medical officer says public will be asked to take extra steps to prevent the spread of disease. Anyone with a cough or cold will soon be told to self-isolate for a week as Britain prepares for a significant rise in coronavirus cases.
Italy extends its strict coronavirus quarantine measures, which include a ban on public gatherings, to the entire country. Prime Minister Giuseppe Conte said that people would only be permitted to travel for work or family emergencies. He said the measures, which come into effect on Tuesday, were to defend the most fragile members of society. The decision follows a large increase in Italy's coronavirus death toll – which jumped by 97 to 463. It is the worst-hit country in the world after China.
US stocks fell 7.6% suffering their worst one-day fall since December 2008 and Treasury yields plummeted to record lows on Monday after a crash in the price of oil rocked financial markets already reeling from the impact of coronavirus.
---
Rome, Italy – Italian Prime Minister Giuseppe Conte has ordered the lockdown of the country's northern region of Lombardy and 14 provinces in an attempt to halt the spread of a new coronavirus.
---
6th March
A positive case of Coronavirus has been confirmed at Watford General Hospital.
US President Donald Trump has signed an $8.3bn (£6.4bn) emergency bill to combat the coronavirus outbreak.
The number of coronavirus cases has reached 100,276, with 55,694 recovered and 3,404 deaths, according to the Johns Hopkins University Center for Systems Science and Engineering.
Sir Patrick said a coronavirus outbreak in the UK was likely to take 12 weeks to reach a peak and maybe "another 12 weeks to go away again".
A 70-year-old woman is the first UK death from coronavirus confirmed as cases surge to 116.
Researchers at Peking University's School of Life Sciences and the Institut Pasteur of Shanghai, discovered the virus has evolved into two major lineages – dubbed 'L' and 'S' types. One which appears to be far more aggressive, scientists have said, in a discovery which could hinder attempts to develop a vaccine.
2,300 cruise passengers including dozens of Britons are ordered back on board their ship off of Greece and told not to leave after it is revealed former passenger has coronavirus.
The bank HSBC has evacuated a floor of its Canary Wharf office tower at 8 Canada Square has been diagnosed with Covid-19. They have sent 100 people home and ordered a deep clean of the 10th floor.
Tesco on Wednesday told more than 5,000 staff at its Welwyn Garden City headquarters in Hertfordshire and other offices to prepare to work from home.
---
Under the level four alert, all hospitals in England have been told to "assume that they will need to look after COVID-19 cases in due course".
The World Health Organization announced on Tuesday that the global death rate of the disease caused by the new coronavirus was 3.4 percent.
39 more cases brings the UK's total of confirmed cases to 90, 29 had recently travelled from infected countries or clusters which are under investigation.
Italy was the worst-affected country from the coronavirus outside Asia, and is considering to close all schools and universities in the country from Thursday and will last until mid-March.
Boris Johnson has promised sick pay from day one for all those with suspected coronavirus.  The new policy does not currently help self-employed, but can claim universal credit.
Coronaviruses (CoV) are a large family of viruses that cause illness ranging from the common cold to more severe diseases such as Middle East Respiratory Syndrome (MERS-CoV) and Severe Acute Respiratory Syndrome (SARS-CoV). A novel coronavirus (nCoV) is a new strain that has not been previously identified in humans.  
Dr. Tedros Adhanom Ghebreyesus, the organization's director general, said in a news conference in Geneva that Covid-19 was deadlier than the seasonal flu, but did not transmit as easily.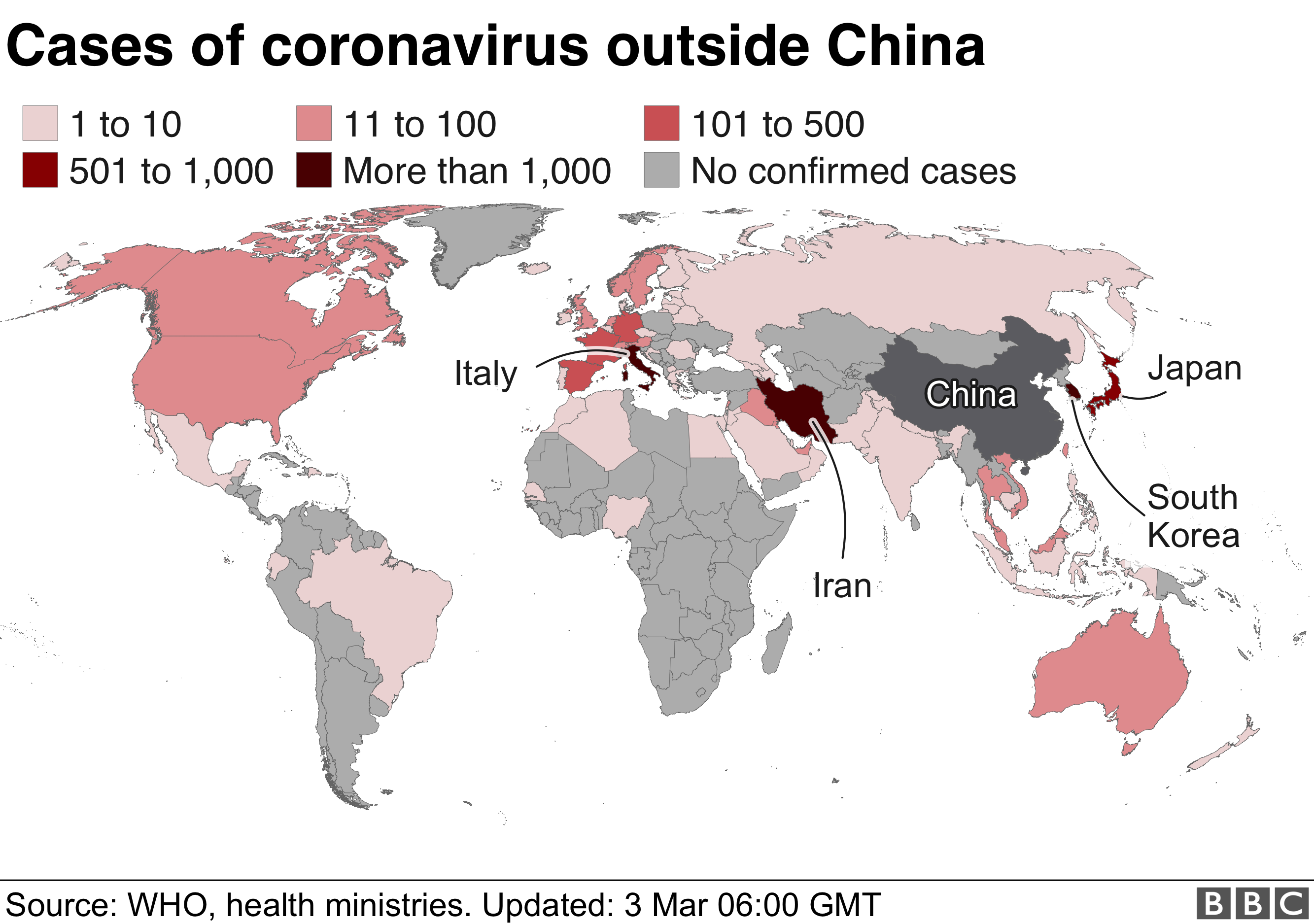 WHO has shipped nearly half a million sets of personal protective equipment to 47 countries, but the global supply is rapidly depleting.
Shortages are leaving doctors, nurses and other frontline workers dangerously ill-equipped to care for COVID-19 patients, due to limited access to supplies such as gloves, medical masks, respirators, goggles, face shields, gowns, and aprons.
Knowing & understanding an epidemic is the first step to defeating it.
We are in unchartered territory with COVID19. We have never before seen a respiratory pathogen that is capable of community transmission, but which can also be contained with the right measures.

— Tedros Adhanom Ghebreyesus (@DrTedros) March 2, 2020
How does coronavirus compare to SARS and MERS?
As of March, there were more than 3,000 deaths linked to COVID-19, far exceeding deaths from SARS, which killed 774 individuals worldwide.